Get expert assistance from lighting specialists for your perfect lighting. Lighting Consultations are available in our Kelowna showroom, and on-site. Call (250) 448-4808 today.
If you're purchasing a whole-home lighting package, we suggest taking advantage of our appointment program that ensures that your time is used productively, and we can give you our undivided attention.
If you are doing a whole-home project, you will need to book an appointment with one of our certified lighting consultants so that we can best help you select your lighting package. This is best done during our business hours of 9 to 5, Monday through Friday.
We suggest planning for between one and three hours. We always have refreshments on hand and usually a treat or two.
If you are purchasing your entire lighting package with Lights On Banks, then an on-site consultation is included* in your package, if needed.
Sometimes the setting of your home will have an impact on your lighting choices, especially if it is a view lot. This service is offered free-of-charge; however, it is subject to the availability of the salesperson, especially during store hours.
Please arrange for the consultation early in your lighting selection process as it may affect the placement of electrical boxes in your home.
Call us at (250) 448-4808 to schedule an In-Store or On-Site consultation.
Lighting Layout & Design Consultations
Heather is our lighting layout designer – one of only five certified in Canada who is licensed by the American Lighting Association to professionally provide lighting layouts and design.
The role of a Certified Lighting Consultant is to create a lighting layout and select the appropriate lighting products to make your home or workplace as comfortable and as functional as possible.
Since the placement of lighting such as recessed lights and the location of electrical boxes for the decorative lighting is "permanent", the use of a lighting layout specialist in the early stages of a build is critical to the enjoyment of the facility, be it an office complex, beautiful home or even a condominium. Heather will work with you to achieve the lighting effect you want in your home or business.
Often the investment into using a Certified Lighting Consultant pays off in a number of ways: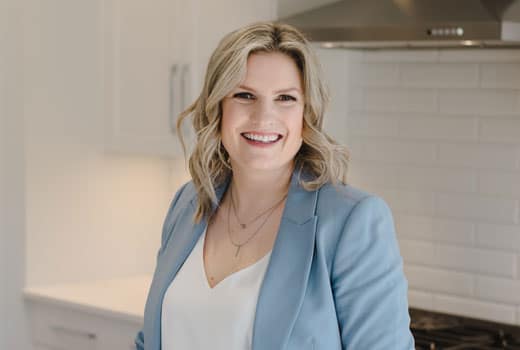 Heather's services are provided on an hourly basis and are reduced by 25% if the majority of your decorative and recessed lighting is purchased from Lights On Banks. If you're interested in how Heather can enhance your project, contact her directly for a quote at 250-212-9223. Heather will work with you to achieve the lighting effect you want in your home or business.
Contact Heather directly for a quote at 250-212-9223.
Email: Heather@lightsonbanks.com
Frequently Asked Questions
Hard copy / or email a set of drawings (we can print a copy if needed)
Inspiration photos
Material / hardware samples
Notes on ceiling heights
Dimensions for pertinent furniture, cabinetry, and/or architectural features

 
We will help you select from brands within your target price range
Offer save & splurge guidance to maximize any budget
For new construction, the earlier the better, especially if you require layout services.
We recommend the first consult to be in the week leading up to your electrical walk through. This allows you to make informed decisions while on site with your trades.
We can accommodate tight time-lines by helping you select from on-hand stock and stock available from Canada-based suppliers.
Yes. For full home packages with deliver within greater Kelowna, Lake Country and West Kelowna. For areas outside this region, talk to your salesperson.
Call the showroom with your preferred availability. We will set you up with one of our certified lighting specialists. (250) 448-4808.
Book a Lighting Consultation
"*" indicates required fields